PRE-ORDER
A COPY OF THIS:
By ordering a copy of this book, you will receive FREE ACCESS to Scott Jeffrey Miller's Ignite Your Genius Career Coaching Series, and have the opportunity to take your career from accidental to deliberate.
In this multi-part video series, Scott unveils for the first time in his three-decade career the 11 tenets of Igniting Your Career Genius.
RECEIVE A

FREE
TUITION

TO THIS: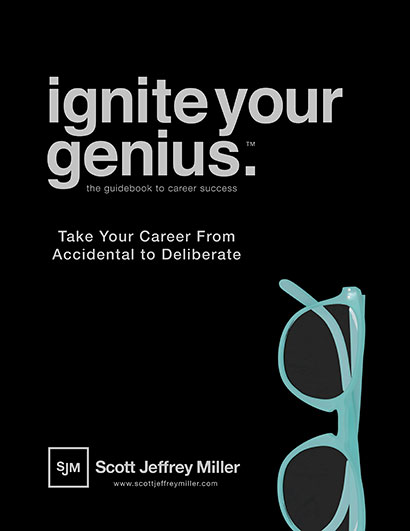 Take your career from accidental to deliberate.
Each video features Scott in casual conversation discussing proven career strategies that everyone can benefit from. Scott draws extensively on his own career journey, sharing specific messes and successes, and illustrating how to navigate your own career, regardless of your industry, position, or goals. In addition to the video modules, each session incudes a downloadable tool or worksheet to ensure the key insights are captured and applied to your own career journey.
Each module can be viewed at your own pace and participants have 12 months to view all of the videos and access the worksheets from the first day of your login.
COMPLETE THIS ONLINE FORM & RECEIVE YOUR
FREE ACCESS

TO IGNITE YOUR GENIUS WITH SCOTT JEFFREY MILLER