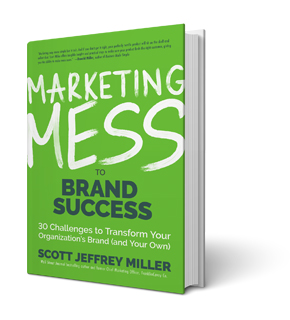 Marketing Mess To Brand Success
This Book Can Make You a Better Marketing Manager
In this second book of Scott Miller's Mess to Success series, the former FranklinCovey Executive VP reveals 30 career-challenging obstacles that you may encounter as a marketing manager and how he learned to transform them into team-enhancing opportunities.
One man's mistake is another man's lesson. Don't let Scott Miller's success story fool you. He has made and learned from many mistakes in his career. Featuring 30 chapters with challenges like "A Name is Not a Lead" and "Hire People Smarter Than You," Marketing Mess to Brand Success shares a career of horrifying mistakes, missteps, and lessons learned. Whether you're starting a new company, figuring out the best brand strategy for a niche market, or trying to land your first job as brand manager, this book is designed to prepare you for many of the inevitable challenges that you will encounter.
Avoid marketing messes and square up to successes. A marketing crash course will not make you a marketing star. But having a better understanding of the role of marketing in business development and making sure you're focused and aligned with the right areas of an organization may. Each chapter inside Marketing Mess to Brand Success features true stories and relevant questions that challenge you to become a better marketing manager. Learn how to:
Navigate a nebulous marketing environment
Ensure career relevance inside a marketing division
Maximize time and investments with sales marketing strategies
If you enjoyed Management Mess to Leadership Success, or books like This Is Marketing, Barking Up the Wrong Tree, or Made to Stick, then you need to add Marketing Mess to Brand Success to your business bookshelf.
buy now